A unique art experience in Italy
La Vigna Art Studios will work with your school group to develop the optimum program content, choosing from a variety of art making experiences.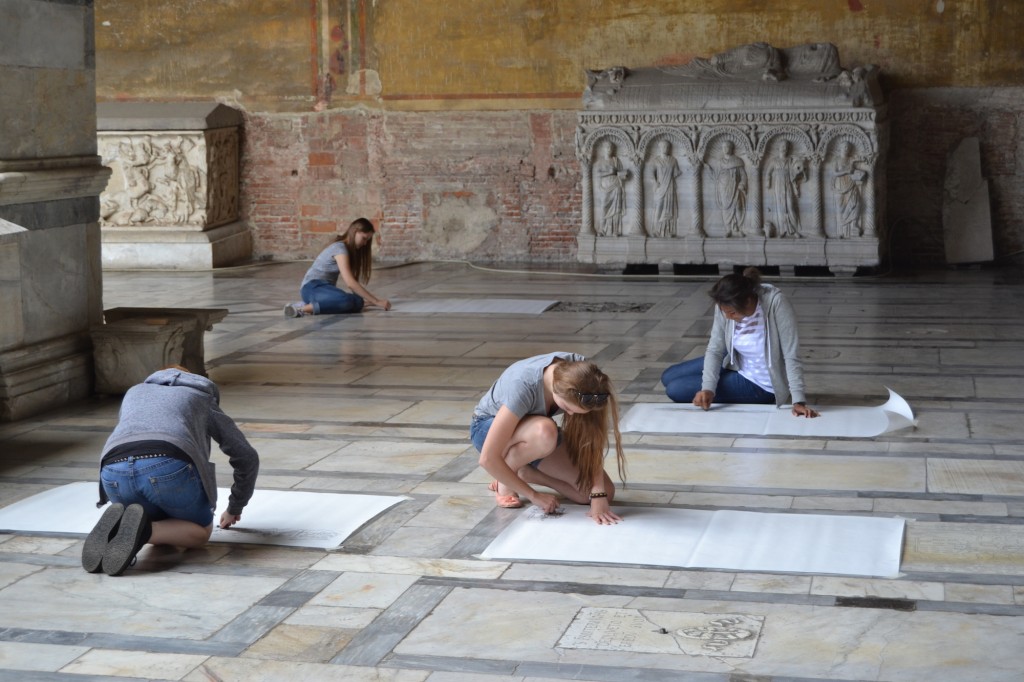 Art Making
Each art making activity is carefully combined with field trips to art historical or natural sites that complement and enrich the studio experience and give content and focus to the investigation. Students will take back both studio work and in depth journal pages. 
All activities include master classes with visiting artists. 
Fresco and Sgraffito experience this ancient and beautiful technique of working directly on the wall with mineral pigments on fresh plaster.
Experimental Printmaking, relief, lino, drypoint, embossing, collograph, monotypes, with exploration of textures and pattern
Photography: iphoneography, alternative photographic techniques: pinhole cameras, cyanotype & van dyke
Textiles: introduction to weaving on a loom, pattern and freeform tapestry weaving
Sculpture Assemblage with recycled materials, wood and metal. Using tools and materials to construct a 3D piece.
Site Specific Installation: creating an installation in response to a particular place. Environmental Art.
Collections and Display: developing series through collecting and displaying. Emphasis on curatorial practice and creating an exhibition.
Making art through play: explore a range of art making activities that encourage playful, unselfconscious exploration of materials and ideas
Observational and experimental drawing, many ways of looking and drawing, including drawing from life at the Museo di Storia Naturale La Certosa, developing technical skills and conceptual thinking.
Collage and mixed media: working with found and sourced materials, composition, creating meaning through association.
Egg Tempera and gold leaf on wood panel painting, with visit to Museo di San Matteo, Pisa to study icons and symbols in early Renaissance painting.
Oil Painting intro: begin with building stretchers, making rabbit skin glue and gesso primer and preparing a canvas the traditional way. Underpainting and developing a still life painting ( small groups only)

What is included?
Coordination, course development and course content
Teaching and support
Student and teacher accommodation & meals in farmhouse agriturismo
Studio facilities and most art materials
Field trips and studio visits
Transportation, driver, permits, parking, petrol              
Pick up and drop off at Pisa airport or train station
La Vigna Art Studios is in a rural setting, walking and outdoor activities are part of the experience. Good food is too.
Maximum group size 14 students + two teachers
Group workshops can be scheduled in March/April/May & October. Dates depend upon availability and advance booking is recommended.
For more information contact: info@lavignaartstudios.com